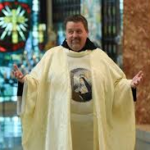 Don't Miss this opportunity – this is for the whole family!
You are being invited to attend our Parish Mission on Sunday, November 3, Monday, November 4, and Tuesday, November 5 at 7:00 PM in the church.
Father Tom McCarthy's message will focus on the Saints, Prayer, and the Family of Faith.  It will be worth your while and it is an excellent way to give yourself an awesome gift before the rush of the holiday season. So, come join us!
Please follow and like us: