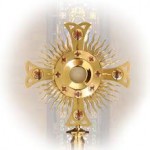 First Friday Eucharistic Devotion
On the First Friday of each month, the Blessed Sacrament is exposed on the altar, providing the faithful with an opportunity for Eucharistic adoration and devotion in quiet prayer and reflection.  Exposition begins at the conclusion of the 9:30 AM Mass and concludes with Benediction at 12 noon.  All are welcome to share some special time with the Lord.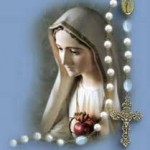 Intercessory Rosary
The Intercessory Rosary Group gathers in the church at 9:00 each Monday through Saturday morning before daily Mass to recite the prayers of the Rosary, asking the Blessed Mother to intercede for our Parish community, our local community, and the wider world.  For some, this is a way of nurturing an already active spiritual life, and for others of us, a means of getting back in touch with a part of ourselves that has been overlooked for some time, allowing that facet of our lives to be rekindled.   All are welcome.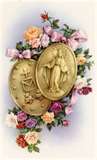 Miraculous Medal Devotion
At St. Frances Cabrini Parish, on Saturday mornings, at the conclusion of the 9:30 AM Mass, the congregation prays the Novena in Honor of Our Lady of the Miraculous Medal.  Booklets are provided for all to follow the prayers.  All are welcome. 
The Miraculous Medal was given to us by Our Lady to remind us of Her love and protection.  When she appeared to Sister Catherine Laboure in Paris on November 27, 1830, Our Lady told Sister Catherine, "Have a medal struck on this model.  All who wear it will receive great graces."  On the front of the medal appears Our Lady with Her hands outstretched. The words, "O Mary conceived without sin, pray for us who have recourse to thee", encircles Her image. On the reverse side, the capital letter M appears with a bar surmounted by a cross.  Under these is the Sacred Heart of Jesus and the Immaculate Heart of Mary. Twelve stars frame the images on this side of the medal.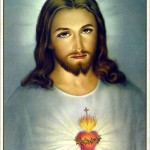 Sacred Heart Novena
Each year, in preparation for the Feast of the Most Sacred Heart of Jesus, the Sacred Heart Novena is prayed for nine days, after the 9;30 AM daily Mass and also after the 9:00 AM Sunday Mass.  Novena pamphlets are made available at the doors of the church for personal use at home, or to join the Parish community during the Novena.