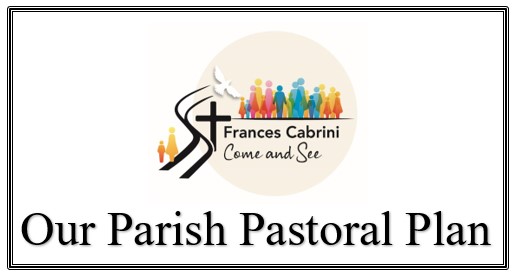 Parish Pastoral Plan 2

Click here for Monsignor McCormac's Pastor's Column introducing CLI and the Next Generation Catholic Parish Program.
Envisioning the Future!
In December 2020, the Parish Envisioning Team was formed. Under the direction of CLI Consultant, Lori Tedjeske, the Envisioning Team was asked to create a vision for the future of our Parish. The group met monthly with additional small group meetings as needed.
Sharing the Vision!
In the Christmas 2021 Parish Bulletin, Monsignor McCormac announced that the Parish Envisioning Team has completed their work. Please access the following links to see the results of their labors and to learn the details of our Vision for the Future of our Parish.
Introducing the Vision – 12/25/2021
Weekly Message by Monsignor McCormac – 12/30/2021
Purpose and Vision Statements – 01/02/2022
Weekly Message by Audrey Wilson – 01/06/2022
Role of the Disciple Maker Index – 01/09/2022
Values & Beliefs: Reverence – 01/16/2022
Values & Beliefs: Community – 01/23/2022
Values & Beliefs: Faithfulness – 01/30/2022
Priorities: Fully Engages in Mass – 02/06/2022
Priorities: Fully Informed Laity through Education and Formation – 02/13/2022
Priorities: Increased Commitment and Involvement in Parish Life – 02/20/2022