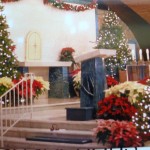 The church is always decorated to enhance each liturgical season, especially during Christmas and Easter.  Members of the Decorating Committee gather to plan the decorations for the season, order flowers and accessories and come together to put everything in place.   Decorating for the holidays is a great way to meet other parishioners, have some fun and beautify the church at the same time!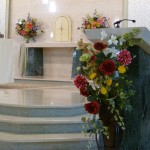 Volunteers are needed to create silk flower arrangements and to rotate arrangements during the seasons.  In addition, volunteers are always needed to water the live flowers inside the church during the Christmas and Easter seasons.    No time commitment is too large or too small, as there are decorating needs to suit every schedule.  All are welcome to participate!  
For more information, contact Karen David at 215-946-4040.