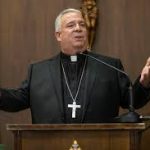 Our Holy Father, Pope Francis, announced today that he has appointed Most Reverend Nelson J. Perez as the 10th Archbishop (14th Bishop) of the Archdiocese of Philadelphia.
Archbishop Chaput formally introduced Archbishop-elect Perez at a news conference held at the Archdiocesan Pastoral Center this morning. Video of the full press event is available for viewing here https://vimeo.com/catholicphilly/review/386626429/0d8a5f8a2e.
Archbishop Chaput also released a column today, which is an adaptation of his news conference remarks. In the column, Archbishop Chaput said, "This is a moment of great satisfaction and joy for the clergy and people of the Archdiocese, and for me personally. When I first spoke with the nuncio about my retirement and this transition last May, I asked for a successor who would care for and guide our people, speak the truth with conviction, and live a faithful witness to Jesus Christ.  Archbishop Perez is a man who already knows and loves the Church in Philadelphia, and is already known and loved by our priests and people."
You can read the full text of the column by opening the attached version or visiting www.CatholicPhilly.com.
Please join in prayerfully welcoming Archbishop-elect Perez home as he prepares to assume his new role in service to our local Church.
Please follow and like us: