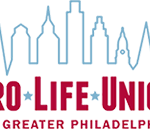 Imagine a woman walking in front of you to enter an abortion clinic. The look on her face says it all—one of melancholy as if she's defeated and hopeless, or has come to the conclusion that abortion is her only way to pursue personal and/or professional dreams.

What would you say if you only had 5-10 seconds to ask this woman to give her unborn child a chance at a happy and healthy life? How would you let her know that helpful services truly exist? That she can be a mom AND succeed in her personal and professional goals?

Your presence and voice can be life-changing. That's why the Pro-Life Union established "Newby Saturday" to help first-time, or fairly newer witnesses, become effective in their approach to help women choose life for their unborn baby!

DATE: Saturday, November 9

TIME: from 10:00am-12:00pm

LOCATION: Outside Planned Parenthood at 12th & Locust Streets in Philadelphia*

*Fact: There were 4,231 unborn lives lost at this particular Planned Parenthood location in 2018.

HOW NEWBY SATURDAY WORKS: "Newby Saturdays" are designed to answer the following questions for a first-time or newer witness:
Is there a brochure I can hand to women?
Do I have to/can I talk to anyone?
Where can I stand?
What are the yellow vested 'escorts' doing?
Is there anything I should or shouldn't do?
Some people are praying the rosary, but I don't do that; what else can I do?
Is everybody going inside the building getting an abortion?
Is there a way to tell if a woman has arrived for an abortion?
What are those brown bags women are carrying out?
OTHER DETAILS: We'll have a seasoned person there: Tom Stevens (Pro-Life Union President and CEO), Patrick Stanton (Pro-Life Union Board Member; Leader of Philadelphia 40 Days for Life), Dr. Monique Ruberu (Pro-Life Union Board Member; Leader of Philadelphia 40 Days for Life), or another designee to help answer common questions about Sidewalk Servants.
QUESTIONS? Call our office at 215-885-8150 the Friday before "Newby Saturday" to find out who will be there, or if you have other questions.
SPREAD THE WORD: Click here to view our Facebook event and share it with friends and family on social media.
Continue to pray for the unborn and the vulnerable. Your prayers and compassionate outreach can save lives and restore faith in the lives of others.
Sincerely,
Tom Stevens
President and CEO
Pro-Life Union of Greater Philadelphia
Please follow and like us: