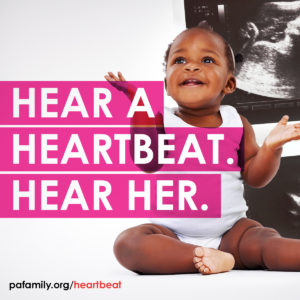 Today begins another chapter for Pennsylvania's pro-life movement and we really could use your help in starting it off strong. (See our three-step action plan below.)

This morning, from a media room in our State Capitol, Pennsylvania Family Institute will stand with many other pro-life advocates and legislators to announce the introduction of the Heartbeat Bill, which would update our state's outdated abortion limit and protect unborn babies after their heartbeat is detected.
Right now, Pennsylvania continues to permit abortions up to 24 weeks into pregnancy, which is based on 1980's era ideology that says an unborn baby is only a human life that deserves protection because of completely subjective and unscientific criteria. The tragic result of this injustice has led to over two million babies aborted in Pennsylvania. 30,000 babies will be aborted this year alone in our state. We can and must be better than this.

One way we can begin to right the ship of Pennsylvania's greatest human rights injustice is through the Heartbeat Bill. When you hear a heartbeat, you hear life. It's an objective and universal sign of life. If we can all agree that life ends when a heartbeat stops, we should all be able to agree that life exists when a heartbeat exists.

Two elected officials, State Senator Doug Mastriano (R-Adams) and State Representative Stephanie Borowicz (R-Clinton) are each sponsoring the Heartbeat Bill. We thank each for their leadership in trying to protect unborn children the moment a heartbeat is detected.

You can help be a part of advancing the Heartbeat Bill by following this three-step action plan:

1. Contact your State Senator and State Representative in support of the Heartbeat Bill.
Please ask for their support of the Heartbeat Bill – Senate Bill 912 and House Bill 1977. To email, use our action alert: click here or visit pafamily.org/heartbeat.

2. Share our message: "Hear A Heartbeat. Hear Life."
Please help us spread the word about this exciting new pro-life opportunity in Pennsylvania. Here are some resources to help you in that effort:

·         One-Minute Video: Hear A Heartbeat. Hear Life.

·         Action Alert (an easy way to email your elected officials): pafamily.org/heartbeat

·         Follow our social media for more: Facebook | Twitter | Instagram

3. Pray.
The pro-abortion lobby, with abortion extremists like Planned Parenthood that advocate for their abortion-until-birth agenda, will be out in full-force lobbying against the Heartbeat Bill. Please pray for Senator Mastriano and Representative Borowicz in their leadership of the Heartbeat Bill. Pray that women and families will be influenced through this legislative effort and that more lives will be saved.
I can recall story after story of women who have seen and heard the heartbeat of their unborn baby and realized – many for the first time – that they heard life. Jessica saw the little heartbeat of her unborn son and it made her realize that he's a life worth saving. Lisa heard the heartbeat of her unborn daughter and it clicked for her – "there's a real life inside of me."

These families are the ones whom we're advocating for with the Heartbeat Bill. They are why we must bring this needed change to Pennsylvania. Thank you for helping to make this possible.

For Life,

Michael Geer
President
Pennsylvania Family Institute
Please follow and like us: