Lessons & Carols Prayer Service 
Students from both the Monday and Tuesday evening PREP classes, along with their families, gathered in Church on Monday evening, December 17th, for a Lessons and Carols Prayer Service. Lessons and Carols is a form of prayer, traditionally celebrated during the final days of Advent, that reflects on the unconditional love of God.
The story of man's fall from Grace, the promise of the Messiah, and the birth of Jesus is told in several short Bible readings interspersed with the singing of hymns and Christmas Carols. Monsignor McCormac presided over the prayer service, Rick Tralies served as leader of song, Brendan Tufo served as cross-bearer, and members of our Level 6 classes served as readers and as actors for the Nativity Scene.
This was the first time in the history of the Parish that Lessons and Carols were celebrated at Saint France Cabrini Church. Pictured below are: Monsignor McCormac, Brendan Tufo, readers Jason Alvarez and Michael Cowell, shepherds Anthony Aponte, Caiden Kristiniak, and Andrew DeGaetano, Hannah Kristiniak as Mary, Ethan Merrick as Joseph, Julianna Massari as the angel, and readers Camryn Luchansky and Maddie Trunfio.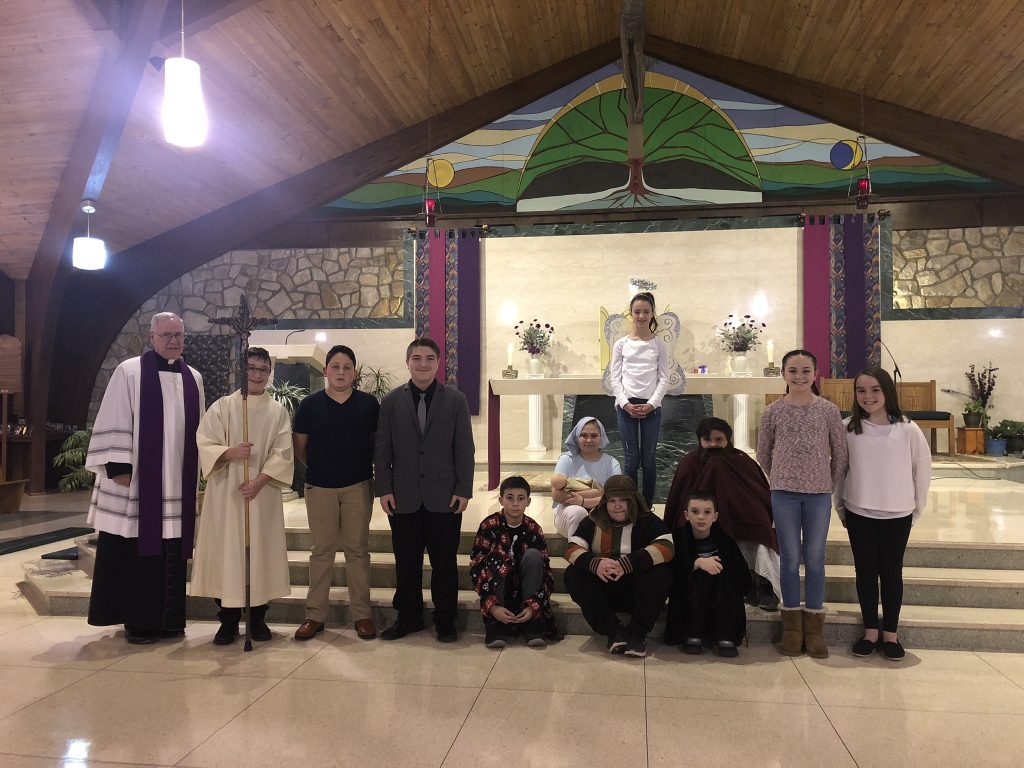 Please follow and like us: