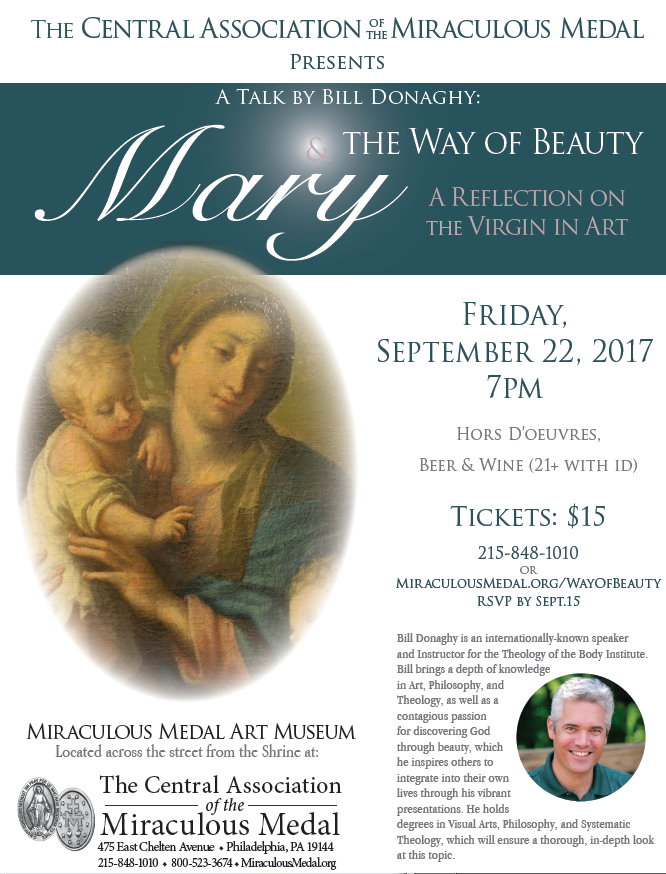 On behalf of the Miraculous Medal Shrine, I am sharing the attached flyer and information below regarding an upcoming presentation by internationally-known Catholic speaker, Mr. Bill Donaghy of the Theology of the Body Institute.
The presentation is titled, "Mary and the Way of Beauty: A Reflection on the Virgin Mary in Art." All are welcome to attend.
Friday, September 22, 2017
7:00 p.m. – 9:30 p.m.
Miraculous Medal Art Museum
(Located Across the street from the Shrine)
475 East Chelten Avenue
Philadelphia, PA 19144
Following the presentation, attendees will have the opportunity to tour the museum and reflect in prayer in the Art Museum Chapel. Additionally, there will be a selection of gift shop items available for purchase.
The presentation is open to adults 21 and over, and tickets are available for $15.00 until September 15th. For additional information on this event or to purchase tickets, please visit www.cammonline.org/shop/wayofbeauty/. Kindly consider sharing this invitation broadly with others. Thank you.
Please follow and like us: