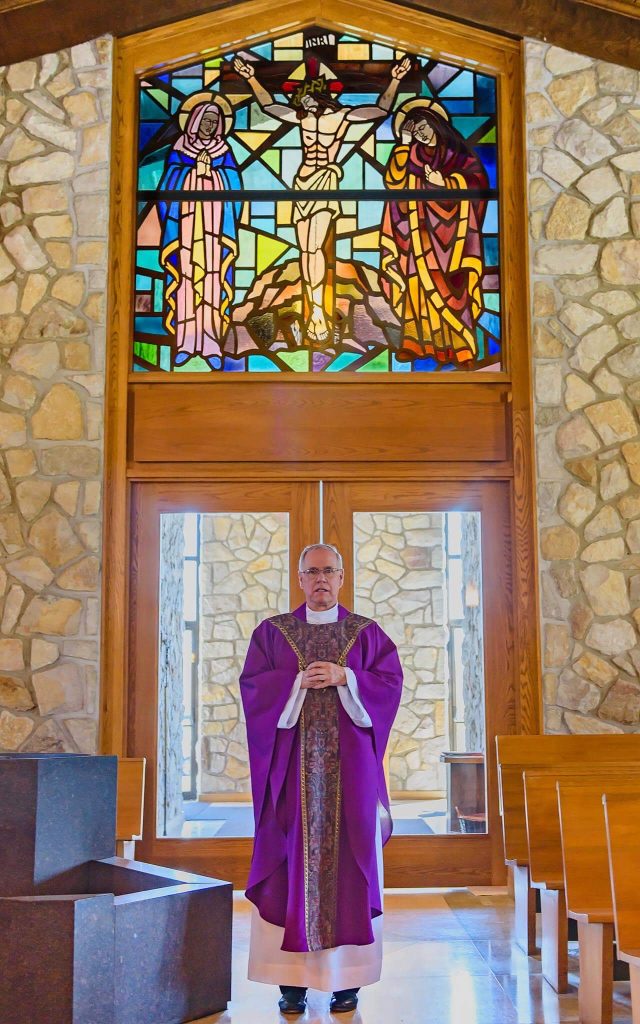 After much planning and after six weeks of renovations, Monsignor McCormac formally presented the newly installed stained glass window of the Crucifixion. As our parishioners know, especially the former members of St. Joseph the Worker Parish, this beautiful stained glass window stood over the entrance to the St. Joseph the Worker Church.
As our parishioners arrived for Mass this past weekend, and seeing the stained glass window for the first time, their comments included "breathtaking," "beautiful," "what a treasure," "magnificent," "such beauty," "what a transforming addition." Some parishioners were taken by how much more light there is in the rear of the church due to the large doors with the clear glass. Some were taken by how much larger the entrance way is and how welcoming the church environment is with this new grand entrance way. As the sun shines through the stained glass, it provides a most beautiful view of the Crucifixion from inside the church.
Many former St. Joseph the Worker parishioners expressed their heartfelt thanks for bringing such a beautiful part of their former church to their new church. With tears, some parishioners were so grateful for the efforts made over the past almost three years to welcome and assimilate the two parishes, especially familiar sights from their former church, in particular this beautiful stained glass window which they saw every time they entered the church for the past decades.
Former St. Frances Cabrini parishioners expressed their gratitude on seeing this magnificent gift from the St. Joseph the Worker Parish Community. They were grateful for the vision in seeing how the stained glass window would fit in so beautifully and accentuate the beauty of the church overall.
Although only a few days since its installation, and in light of some of the comments made by former St. Frances Cabrini parishioners, Monsignor McCormac said that it almost seems as though the stained glass window, along with the new entrance way and magnificent doors, have been there since the construction of the church in 1975.
You can view more pictures of the stain glass window and it's installation, HERE.
Please follow and like us: