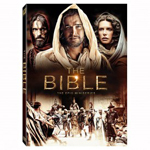 Beginning on this Sunday, March 3rd, the History Channel will be hosting an epic five-week, 10 hour television mini-series entitled "The Bible" from Emmy Award winning husband and wife team, Mark Burnett and Roma Downey.  The series premieres Sunday, March 3rd, at 8:00 PM and will span the Bible from Genesis to Revelation, presenting some of its best-known stories, including Noah's Ark, the Exodus, Daniel in the lions' den and the crucifixion and resurrection of Jesus.
Each segment will be shown for two hours on Sunday night and millions of viewers will see the Bible come to life in a way never before seen. The final episode of the series will air on Easter Sunday and will feature the death and resurrection of Jesus.
To help insure the accuracy of the miniseries, many Christian scholars served as advisors and hundreds of Christian leaders have given their endorsement.
Former Touched By an Angel star, Roma Downey, Burnett's wife and fellow executive producer, heads a large international cast in the role of Mother Mary. Keith David, an Emmy winner for voice-over performances, will narrate with a musical score by Oscar- and Grammy-winning composer Hans Zimmer.
Our research indicates that this will be a series worth watching!
Please follow and like us: