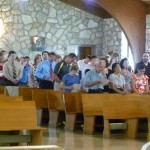 Welcome to the Saint Frances Cabrini Parish Community located in Fairless Hills, Pennsylvania.   We encourage you to learn more about our vibrant and welcoming community which has a great tradition of Catholic Faith, Catholic Ministry and Catholic Education.   You are invited to join us each week as we come together to share in the celebration of the Eucharist. 
Saint Frances Cabrini Parish provides many opportunities for participation in Parish ministries and organizations. Please click here to learn more about opportunities to get involved in our Parish life.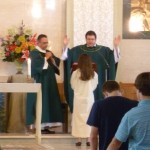 We endeavor to pass on our faith and tradition to our young people to enable them to grow in the experience of God's abiding love.  Our Parish Community supports the opportunity for a Catholic elementary school education for our families at Holy Family Regional Catholic School located nearby on Trenton Road.  We are also committed to providing a Parish Religious Education Program which is open to all Parish children from pre-school to Junior High.