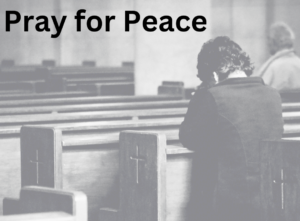 During a General Audience at the Vatican on October 18th, Pope Francis implored Catholics around the globe to join in solidarity for a Day of Fasting and Prayer for Peace in the World, especially in Israel and Palestine. The day designated for this purpose is Friday, October 27th.
Archbishop Nelson J. Pérez has echoed Pope Francis' call, exhorting all clergy, consecrated religious, and lay faithful throughout the Archdiocese of Philadelphia to join in observing this Day of Fasting and Prayer for Peace in the World.
Archbishop Pérez will be the principal celebrant and homilist at a Mass for the Preservation of Peace and Justice at the Cathedral Basilica of Saints Peter and Paul, 18th Street and Benjamin Franklin Parkway, Friday, October 27, at 12:05pm. Archbishop Borys Gudziak, Metropolitan Archbishop for Ukrainian Catholics in the United States, will concelebrate. Preceding Mass, all are invited to pray the Holy Rosary for the intention of peace beginning at 11:30 a.m.  The Mass will be streamed live at 12:05 p.m. to the Archdiocese Vimeo Channel (vimeo.com/event/247013…) and Archbishop Pérez's Facebook page (facebook.com/Archbisho…).
Please follow and like us: