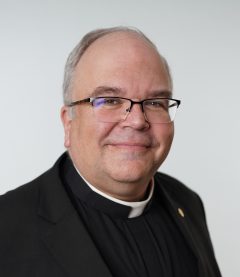 MOST REVEREND NELSON J. PÉREZ APPOINTS
REVEREND PHILIP G. BOCHANSKI
AS VICAR GENERAL AND MODERATOR OF THE CURIA
FOR THE ARCHDIOCESE OF PHILADELPHIA EFFECTIVE JUNE 19TH
During the Chrism Mass at the Cathedral Basilica of Saints Peter and Paul today, Archbishop Nelson J. Pérez announced that Reverend Philip G. Bochanski has been appointed Vicar General and Moderator of the Curia for the Archdiocese of Philadelphia effective June 19. He will succeed Reverend Monsignor Daniel J. Kutys, who has served in that role since July 2012.
In sharing this news Archbishop Pérez said, "Caring for the spiritual and temporal needs of more than 1.5 million Catholics in Archdiocese of Philadelphia is a tremendous responsibility and no one can do that alone. I'm blessed to have the support and assistance of the auxiliary bishops and my senior staff in that work.
Over the last eleven years, Monsignor Kutys, has quietly, ably, and humbly served as Vicar General and Moderator of the Curia. He generously shared his talents in service to God's people as a key figure in the governance and administration of the Archdiocese during that time. He did so with grace and calm during some of the most challenging periods in the history of our local Church and we all owe him our deep thanks.
As we thank Monsignor and wish him well, I ask you to join me welcoming his successor. The new Vicar General and Moderator of the Curia is with us here today and it is Father Philip Bochanski. He will take over in June. Father Bochanski has served our Church at the local and national levels for nearly 25 years as a parish priest, high school religion teacher, a spiritual director, a chaplain to the Philadelphia chapter of Courage, and as the Executive Director of Courage International. He is also a nationally known author who has published six books.
Please click here to read more.
Please follow and like us: