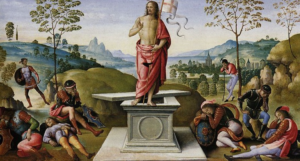 Dear Sisters and Brothers in Christ,
On Sunday, our Church will joyfully proclaim in unison Christ is Risen! Alleluia!
Easter is the defining moment of our faith and marks the fulfillment of God's promise as foretold by the prophet Isaiah, "Though the mountains leave their place and the hills be shaken, my love shall never leave you nor my covenant of peace be shaken" (Isaiah 54: 10).
Click here to continue reading the message.
Please follow and like us: