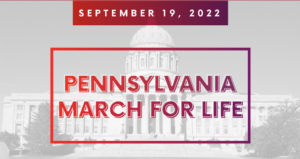 This year's 2022 Pennsylvania State March for Life will feature a phenomenal line-up of stalwart advocates in the fight for life to reinvigorate you and your fellow Pennsylvanians in your defense of the unborn!  
At the March, you will hear:
An address from our headliner and special guest, Ann McElhinney, New York Times Best Selling author and director and producer of the movie "Gosnell, The Trial of America's Biggest Serial Killer."
Rallying cries from YOUR representatives from the Pennsylvania State House and Senate: Senate Majority Leader Kim Ward, Speaker of the House Bryan Cutler, and Senator Judy Ward.
Powerful testimonies from Dr. Monique Ruberu, pro-life OBGYN and speaker, and Kathy Barnette, author, veteran, and spokeswoman for 1776 Action.
Click here to see the schedule and for more information.   RSVP HERE!
Please follow and like us: