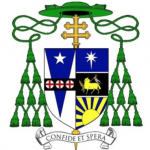 Statement of Archbishop Nelson J. Pérez Regarding Racially Motivated Shooting in Buffalo, New York
"This weekend, I participated in the Concert for Unity, sponsored by our Archdiocesan Commission on Racial Healing.  It featured a unified choir of over 100 gifted individuals from diverse racial and ethnic communities praising God with one voice along with shared reflections and bold statements condemning the sin of racism.
This moment of grace came less than twenty-four hours after a brutal and racially motivated shooting at a supermarket in Buffalo, New York that left 10 people dead and a community in mourning. It is another painful reminder that the mortal sin of racism has not been eradicated in this country. We must continue our work to stamp it out. All lives are gifts from God designed to share their unique gifts with those around them. Tragically, these gifts were violently ripped away from families, friends, and a community that is now struggling with deep grief.
I pray that God will comfort those whose hearts have been broken and that He will embolden and strengthen all of us to build and defend a culture of love and respect for all of our brothers and sisters."
Most Reverend Nelson J. Pérez, D.D.
Archbishop of Philadelphia
Please follow and like us: