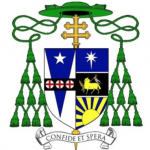 Statement of Most Reverend Nelson J. Pérez Regarding Condominium Collapse in Surfside, Florida
"Following the condominium building collapse in Surfside, Florida last week, tremendous anxiety and tension remain for those in mourning and those hoping search and rescue teams will find their loved ones alive.
Like people around the country, I have been monitoring news reports with deep sadness. Recently, I spoke with Father Juan J. Sosa, Pastor of Saint Joseph Parish, which is located near the building. His faith community is suffering deeply right now with many parishioners missing and others waiting anxiously for news of loved ones who were living in the building.
In the name of the clergy, religious, and lay faithful of the Archdiocese of Philadelphia, I ask that we stand in prayerful solidarity with all those in pain as a result of this tragedy and with the City of Miami.
At the same time, let us give deep thanks to all of the first responders as well as the search and rescue teams seeking to preserve the lives of those in danger. May God watch over and protect them as they endanger themselves for the good of others. May our witness bring some solace to and consolation to those in need of hope in the wake of this tragedy."
Most Reverend Nelson J. Pérez
Archbishop of Philadelphia
Please follow and like us: