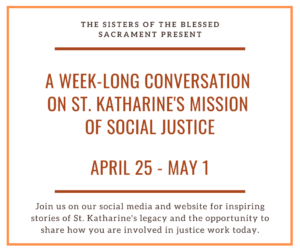 The Sisters of the Blessed Sacrament invite you to participate in a week-long virtual event highlighting social justice concerns and promoting the legacy of Saint Katharine Drexel.
Beginning Sunday, April 25, each day will present an opportunity to reflect on her tireless work and dedication to service of marginalized populations through her personal commitment and the religious order she founded.
All are welcome to participate in this celebration of the life and work of Philadelphia's Saint Katharine Drexel. This program will take place on the Sisters of the Blessed Sacrament's Facebook page and Instagram page. To learn more, please visit www.KatharineDrexel.org.
Please follow and like us: