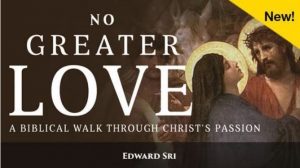 We are happy to announce that during the Lenten Season, our Parish will be having a Soup Supper and Lenten Series for the adults of the Parish. These sessions will be held on four Wednesday evenings during Lent, beginning on Wednesday March 20th and continuing on March 27th, April 3rd, and April 10th. The Soup Supper will begin at 6:00 PM and it will be served until 6:40 PM in the Monsignor Woods Hall.
Following the Soup Supper, from 7:00 PM until 8:30 PM in the Monsignor Woods Hall, there will be a Lenten Series entitled No Greater Love: A Biblical Walk through Christ's Passion. The series is a presentation made available from Ascension Press and the speaker, via DVD, is Doctor Edward Sri. Filmed on location in the Holy Land, No Greater Love is a five-part video series that reveals Christ's amazing love for us. We will study and enter into four parts of this video series. While engaging in this study, we will walk step-by-step with Jesus from the Garden of Gethsemane to the Mount of Calvary. Author Edward Sri guides us through the last hours of Christ's life in this biblical pilgrimage. Every step of the way, biblical experts reveal how Old Testament prophecies, messianic expectations, biblical symbolism, and historical context shed light on the mystery of Christ's suffering and death. With these insights, we can come to a deeper understanding and appreciation of God's immeasurable and unconditional love which will allow us to draw closer to Jesus.
In this study, we will discover: Click here to read more.
To register online, click here.
Please follow and like us: