Welcome to the Catholic Church
Richard Bolter, Mark Daugherty, and Lindsey Godin!
The evening began with the Service of Light on the side lawn of the Church.
The Service of Light was followed by the Procession with the Light of Christ into the Church.
The Procession was followed by the Liturgy of the Word
The Liturgy of the Word was followed by the Baptismal Liturgy
The Baptismal Liturgy was followed by the Sacrament of Confirmation
The Sacrament of Confirmation was followed by the Liturgy of the Eucharist
Following the Vigil Mass, many pictures were taken to remember this joyful day!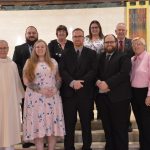 Congratulations to Richard Bolter and his sponsor Jackie Daugherty, Mark Daugherty and his sponsor Betty Brooks, and Lindsey Godin and her sponsor James Gesualdi. They are pictured here with Monsignor McCormac, John McClure, Catechist, and Audrey Wilson, R.C.I.A. Director.