Our Church Cleaners gather a few times during the year to give the church a thorough cleaning by wiping down pews, cleaning windows, dusting the walls, rafters, and light fixtures, cleaning the sanctuary area, as well as any other areas which need special attention.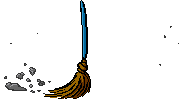 Cleaning dates are announced in the Parish Bulletin, as well as under Announcments on the Parish website.  All are welcome to join us as we beautify our worship space!
For more information, or if you would like to be notified about cleaning dates, contact Karen David, Parish Business Manager.