The Pot of Gold Lottery Jackpot prize stands at $20,000 for the drawing on Monday, August 6th. In addition, since there have been no consolation prize winners in the Pot of Gold Lottery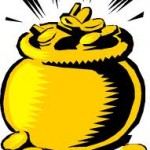 for the past two weeks, the consolation prize for Monday, August 6th is $3,000. Purchase your tickets now! You've gotta be in it, to win it!
Tickets are available at the rectory office or after all of the Masses over the weekend. For more information, call the rectory at 215-946-4040. Good luck!
Please follow and like us: