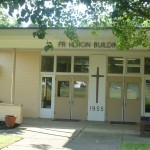 It is with sadness that we notify our parishioners that our Father Heron School building has been vandalized. On Saturday afternoon, July 21st, having discovered that there was some vandalism in the school building, the Falls Township Police were called and they came to see the damage and made their report. The Police indicated that they would increase their surveillance in the area. On Monday morning, July 23rd, it was discovered that the Father Heron School building was once again vandalized but this time the damage was extreme. Once again, the Falls Township Police came to investigate. This time, in addition to the police officer, a police detective also came to conduct a more thorough investigation. The damage included 40 broken windows, including interior and exterior windows. Almost all the classroom door window panes were smashed. Drywall was smashed and ripped off. Paint was thrown on the floors and walls. Florescent lights were smashed and strewn all over the hallways. Ceramic tiles were ripped off the walls. An obscenity was written on a classroom floor. In a word, the building looked like a disaster area.
It is truly a sad reflection that such vandalism can take place in our neighborhood. To deliberately destroy property in such a violent way is despicable and very disheartening!
The Archdiocesan insurance office has been notified and the police investigation continues. If anyone has any information regarding the vandalism, please contact Falls Township Police Detective Dennis O'Connell at 215-949-9100, Extension 416. 
Please follow and like us: