We're pleased to let you know that St. Frances Cabrini has come to Facebook! As a part of the freshening up of our web presence, we're trying out a Facebook presence to see whether new media engagement in this way is beneficial to our parish family.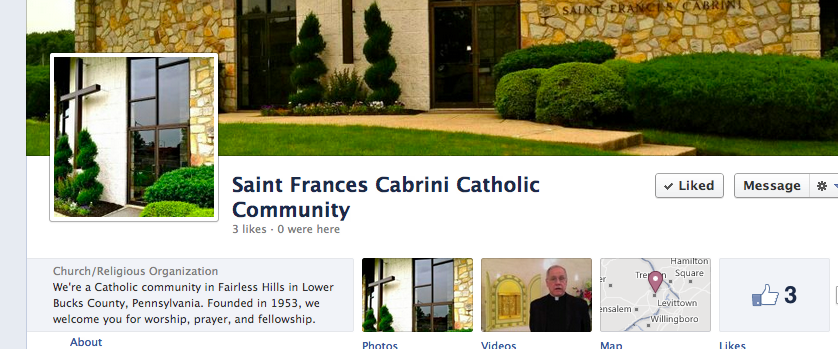 We'll be posting updates, photos, potentially an occasional video, and generally offering our Facebook page as a place for parishioners and friends of the parish to connect and dialogue with one another. The Holy Father has called Catholics to engage new and social media as a means of bringing about the New Evangelization, and at St. Frances Cabrini we want to do our part to engage, witness, and evangelize in new ways.
As you'll find on our Facebook page, we've already published a short welcome video message from Msgr. McCormac, along with 25+ photos from our church and grounds. We're hoping to offer this page as a space for you to post your own photos, comments, and even video from your experiences at St. Frances Cabrini.
Like any new endeavor, we can only see success with our Facebook presence is an active community participates. If you like what you see so far, please consider sending the page to a few friends or family. The Gospel message is being shared in new ways with new media, and while a Facebook page might seem strange at first we're hopeful it can become a place for our parish community.
Visit our Facebook page, click "Like" on the page and follow along as we experiment in this new world of social communications!
Please follow and like us: